Otolaryngologist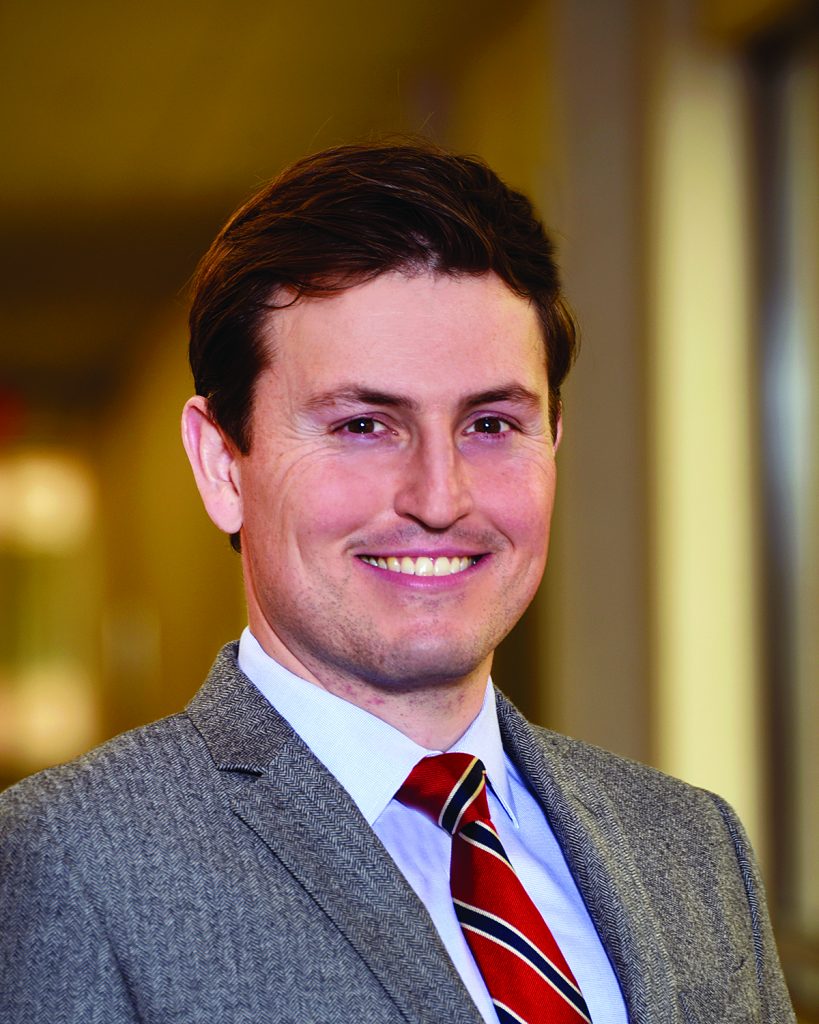 Daniel D. Martin, MD is a board-certified Otolaryngology Head and Neck Surgeon who provides care to patients of all ages at the Lakeshore Ear Nose and Throat Center locations in Warren and Macomb Township.
Dr. Martin treats a wide variety of disorders of the head and neck region. He has a special interest and is highly trained in treating nasal obstruction, functional rhinoplasty, rhinosinusitis, head and neck skin cancer reconstruction, salivary gland disease, otologic pathology, thyroid/parathyroid disease and obstructive sleep apnea surgery, including the Inspire Hypoglossal Nerve Implant.
Dr. Martin, a native Michigander, earned his undergraduate degree at the Ross School of Business at the University of Michigan. He went on to complete medical school at The Ohio State University College of Medicine. Dr. Martin completed his residency in Otolaryngology Head and Neck Surgery at the University of Rochester in Upstate New York.
Dr. Martin practices evidence based and personalized otolaryngology. He believes in developing a partnership with patients and empowering them to achieve their healthcare goals.
Inspire
Dr. Daniel D. Martin is proud to offer Inspire therapy as an implantable treatment option for people with Obstructive Sleep Apnea who are unable to use or get consistent benefit from CPAP. Inspire monitors your breathing patterns while you are asleep, and the system delivers mild stimulation to the hypoglossal nerve, which controls the movement of your tongue and other airway muscles. By stimulating these muscles, the airway remains open during sleep.
Inspire Therapy "How it Works"
Inspire therapy is controlled by a small handheld sleep remote. The remote allows you to turn Inspire therapy on before bed and off when you wake up, increase, and decrease stimulation strength, and pause during the night if needed. Click for How Does Inspire Work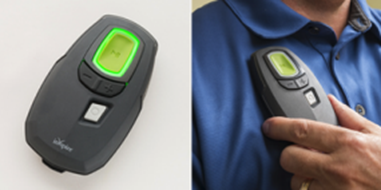 Want to hear from someone who has Inspire?
Click here for What people say about their Inspire journey 
How Effective is Inspire Therapy for Sleep Apnea?
Inspire therapy is safe, clinically proven, and FDA-approved.
The safety and effectiveness of Inspire therapy has been measured in over 100 peer-reviewed articles. Studies show patients using Inspire therapy experience significant reductions in sleep apnea events, increased daytime activity levels, and reduced daytime sleepiness.
Average Sleep Apnea Events/Hours (Apnea-Hypopnea Index)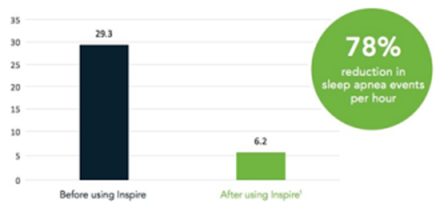 Do I Qualify for Inspire? – During your appointment, Dr. Martin will review the following with you
Sleep Study Results
● If you have not had a sleep study within the last two years, you may need a new one ● Sleep studies can be performed at home or in a sleep lab
Sleep Apnea Severity & History
● Inspire is intended for moderate to severe obstructive sleep apnea patients who are unable to use or get benefit from CPAP
Body Mass Index (BMI) 
● BMI is a calculation based on height and weight
● BMI requirements vary by Insurance Plans. Medicare requires BMI less than 35, some commercial plans require BMI less than 32
Airway Anatomy
● Your airway anatomy will be checked during an airway exam prior to implantation. The exam will help Dr. Martin find the airway blockage that is causing your sleep apnea. This is done as a short outpatient procedure.
Inspire Implant
● If you pass your airway exam, an implantation surgical date will be scheduled. Your Inspire procedure will take around 2 hours and you will go home following the surgery. Dr. Martin will provide instructions for you following the surgery. Click here to learn more about Inspire www.inspiresleep.com