Adam D. Rubin, MD
Laryngologist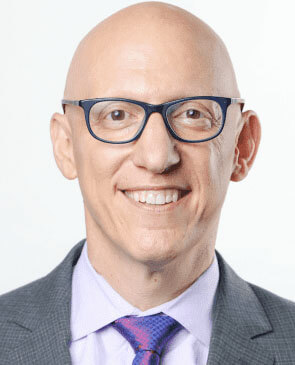 With a lifelong passion for the human voice, Adam D. Rubin, MD is a board-certified laryngologist and voice specialist practicing at Lakeshore Ear, Nose & Throat Center in St. Clair Shores, Michigan. He helps patients, including professional, student, and amateur singers and actors from the metropolitan Detroit area to protect, preserve, and heal their voices. Dr. Rubin is also the director of the Lakeshore Professional Voice Center operated by Lakeshore ENT.
Before pursuing his medical degree at Harvard Medical School, Dr. Rubin earned his undergraduate degree from Yale University and had a long career as a professional actor and singer, where he developed an understanding of the need for expert care for professional voices.
Dr. Rubin is a fellow of the American Laryngological Association, the Triological Society, the American Academy of Otolaryngology-Head and Neck Surgery, and the American Broncho-Esophagological Association.
Besides his clinical practice and artistic expertise, Dr. Rubin is active in voice research. He has written an array of medical articles and book chapters and is the author of "The Vocal Pitstop: Keeping Your Voice on Track." He's also a frequent guest speaker at national and international meetings and conferences.